Hawthorne Community Outdoor Exploration Space Design Project
A Friends of Hawthorne committee is looking to bring the Hawthorne community together to re-imagine the school's outdoor space through a community design process. We dream that this project will have multiple rewards:
More diverse and inclusive outdoor play and exploration spaces
An outdoor classroom integrating the P patch and enhancing environmental learning
Safer school access improving student pick up & drop off
A more welcoming space to share our Hawthorne spirit with the larger community
STEAM Project based learning and teaching the power of community and activism
 
Announcements
Help Design the new Playground and Outdoor Space!
We want your input on creating diverse outdoor areas for play and exploration, a more welcoming community space, and safer access for pick up and drop off. We're currently applying for a Seattle Neighborhood Matching Funds Grant to secure funding for the design process. As part of the grant application, we need the Hawthorne Community to pledge to contribute volunteer hours by taking part in three after-school community design meetings during the 2017-2018 school year.
Please fill out the online pledge form, even if you have done so already (some previous pledges were incomplete and won't count). Make sure to include all members of your family, everybody counts!
Project timeline
Dream it!
Spring 2017 - Submit Phase 1 Neighborhood Matching Grant application to hire Design Firm to facilitate the community design project.
Summer/Fall 2017 - Playground committee hires design firm
Design it!
2017/2018 School year - Hawthorne Community comes together at 3 design meetings to brainstorm ideas for the playground and outdoor spaces. Design firm facilitate meetings, and prioritizes community's goals.
STEAM project based learning is integrated into the year's classroom lessons, in tandem with the design process.
Design firm to produce construction documents.
Build it!
Summer 2018 (hopefully) - depending on how quick the grant/design processes goes. Possible Summer 2019.
Celebrate!
Fall 2018 (or 2019) - Ribbon cutting for a more welcoming, safer, engaging, and inspiring community space....we all know as Hawthorne.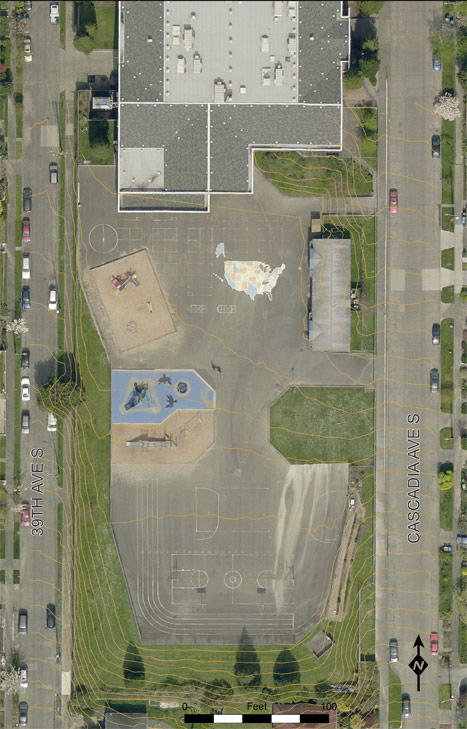 less pavement
more shade
better neighborhood access
outdoor classroom
rain garden
Design lead by students
Hawthorne is a Creative Approach School that provides students with Project Based Learning opportunities aligned to academic standards through our STEAM Program (Science, Technology, Arts, and Mathematics). We envision this project as a tremendous STEAM learning opportunity for the Hawthorne students. Students have the opportunity to take a direct role in a real-world design and construction process. Students will interact with design professionals at the after-school design meeting, and we will look for opportunities to connect the STEAM learning into project-based activities in the classrooms.
 
Improve access to the school and improve SAFETY
Currently the only access to the playground is on the east side of the school. By adding an entrance to the playground on 39th Ave S neighbors would have easier access to the playground and facilities.
Bus and parent drop off now occurs on Cascadia Ave S. This mix of vehicles and students is chaotic and potentially dangerous. A new access point to the school on 39th Ave Swould allow drop-off and pickup of students separate from the bus loading zone.
Past Announcements
Anyone who wants to be involved in shaping this multi-year endeavor or find out more should try to attend the Committee Information & Pre-Planning Meeting on April 4th, 2017 from 5:00 PM to 6:00 PM in the Library (before the FOH PTA Meeting.) All school, staff, neighbors, and community wide members are welcome. For more information contact the committee co-chairs Pete Intravartolo (peteintro@gmail.com) or Peter Schumacher (schumacher.p.j@gmail.com). This is not a design meeting, but will focus on general direction and grant writing.